Shopping Cart
Your Cart is Empty
There was an error with PayPal
Click here to try again
Thank you for your business!
You should be receiving an order confirmation from Paypal shortly.
Exit Shopping Cart
Lone Star

Elementary

Staff Site
It woudl not be the end of THIS particular year if it wasn't a little messy. We are waiting to get the final word on our numbers after Limited Open Enrollment ended (was supposed to end Friday, so...). This may make a difference in numbers of teachers on teams or even whether we must move any classrooms. I will get an updated map to you as soon as possible, and we will have the building available to you this summer, Monday-Thursday, 8:30-3:00. Please complete any movement by June 30.
Staff Kids/Homeroom Requests. All requests will come to me; I will send an email when we are ready for them. Remember that requests guidelines go like this:
If you have a request, you must submit three names, not just one.
It is my goal to spread out staff kids among the team, that is why we need more than one request.
You do not have to submit requests. I think all staff are fabulous.

I will update the Staff Site wtih 2021-2022 information, including rosters in June. That is when I will send a group email asking for any reqests.
Monday, May 24 - Schedule Change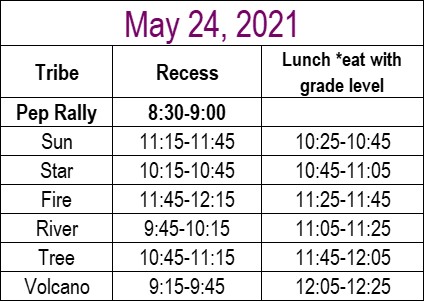 9:00 Bartlett - Strategic Plans
1:15 pm Luncheon; Secret Sista/Mista Reveal; Retirement Celebration; Honors
7:00 pm LCHS graduation

Tuesday, May 25 - Schedule Change
8:30 Dyslexia Review: B.R.

10:05 Clap Out for 5th graders 
2:00 ARD: T.T.
7:00 pm MHS graduation

Wednesday, May 26
Trade Out or work assigned hours
10:00 Bartlett to Principal Meeting

Thursday, May 27

Trade Out or work assigned hours
9:00 TLIM Coaching Session, ZOOM - Winn, Bartlett, Lout

0

/