Shopping Cart
Your Cart is Empty
There was an error with PayPal
Click here to try again
Thank you for your business!
You should be receiving an order confirmation from Paypal shortly.
Exit Shopping Cart
Lone Star

Elementary

Staff Site
Recently, we met with staff regarding the mock A-F ratings and targeted an area where we could do better. This area is Economically Disadvantaged. I have no doubt that every person on our staff loves the students and works hard to get them where they are, so it is sometimes hard for me to point out areas of growth without feeling a little bit guilty. However, remember that we are "green and growing" or "ripe and rotting". In other words, we are never done - always improving.
Elisa shared some research that included the statements below. These behaviors are (obviously) appreciated by all students. Remember that most of our students see these types of behaviors and environments at their home, so they feel totally at ease when their teachers behave like this. Our Eco Dis kids may not experience these same behaviors or environments outside of schools. That is why it is so very important - more important than test scores!! - that they have them modeled and used in your classrooms. It prepares the children for future settings and levels the playing field so that they can "fit in". 
Building Relationships
What students say they look for to determine mutual respect:
My teacher calls me by my name
My teacher uses courtesies like "please" and "thank you"
Kids in my class are required to use courtesies too
My teacher calls on me and all students
My teacher gets into proximity/arm's length often
My teacher greets me at the door
My teacher smiles
Classroom has "businesslike" procedures
I get to assess/evaluate some of my own work
I get to generate questions that are used in instruction
I understand how my work is graded/scored
I can ask for help from my teacher
Final note, one thing that I heard at a workshop many years ago - that has always stayed with me - is: The student that you want to touch the least, is the one who needs it the most. I'm sure that there is someone that comes to mind when you reflect on that statement. Hug them. 
I appreciate you!!! 
 cb
Monday, 1/9
Universal MOY screening continues this week
GT testing for 1st and 3rd this week
Walkthroughs, observations, conferences continue this week
Jeans coupons accepted all week
Tuesday, 1/10
Report cards go home today
Wednesday, 1/11
Midweek Jeans Day! Jeans with shirt of your choice
Thursday, 1/12
Eduphoria question bank training during conference times in Lowry's room
7:45 Team Leader Meeting in Alyson Davis' room
PTA Soup Luncheon for staff
Friday, 1/13
Go Texans! Let's cheer on our home team with Texans shirts & jeans
Move Your Bus, Chapter 14
Well, I just can't say enough about my feelings for this chapter. There is a phenomenon that I encounter often with a variety of groups - volunteer groups, neighborhood, sports moms, even my own home... it just goes on... The conversation usually starts with, "What we need to do is..." But what the speaker means is, "What YOU need to do is..." It is NOT an act of helping out with a problem; it is an act of getting out of a problem. I like to reply, "Yes. Get on that." If you find yourself wondering whether you are helping out or getting out, reflect on what your reaction would be to "Get on it." Would you say, "Ok, I will"? If so, you are truly part of the solution. And you are appreciated!!!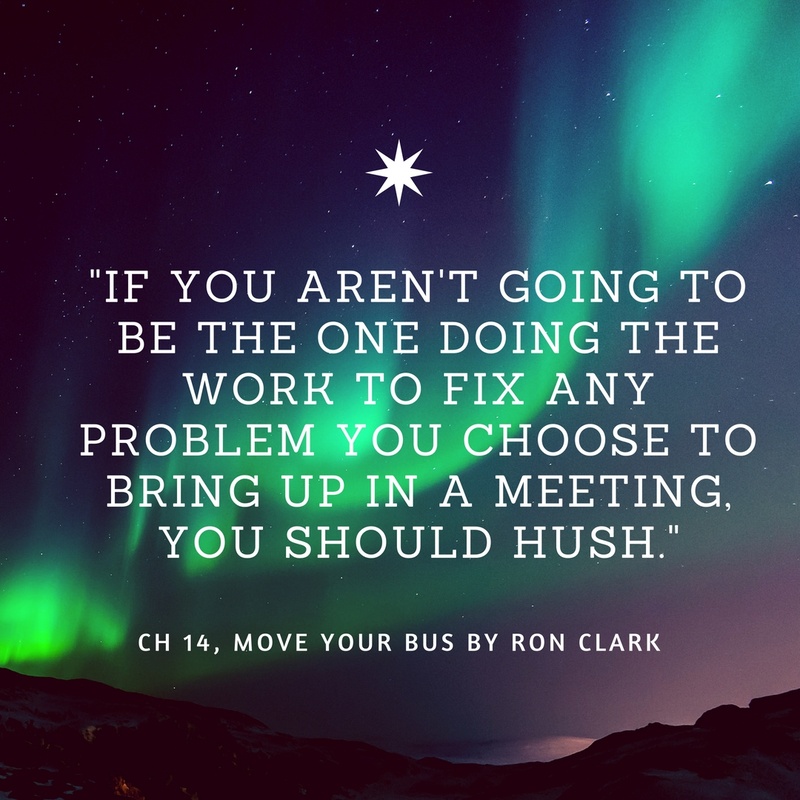 0

/