Shopping Cart
Your Cart is Empty
There was an error with PayPal
Click here to try again
Thank you for your business!
You should be receiving an order confirmation from Paypal shortly.
Exit Shopping Cart
Lone Star

Elementary

Staff Site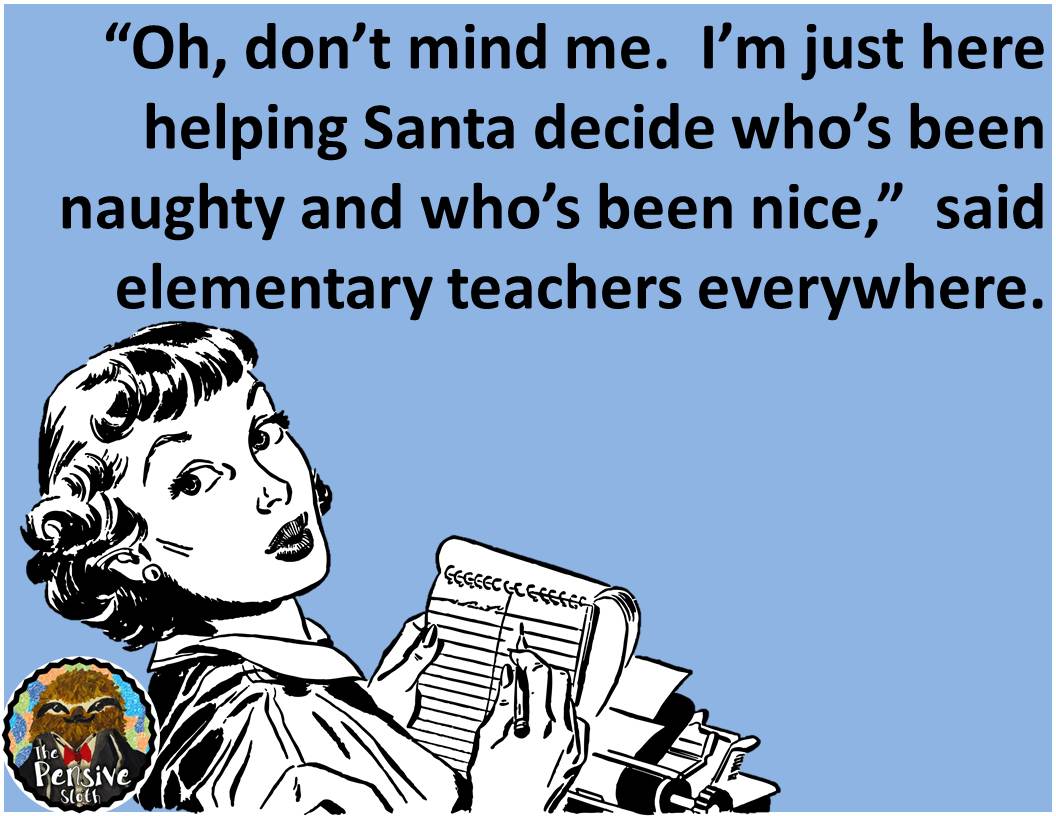 Monday, December 10
PLC: 1st & 2nd GT students work on PSP
Tuesday, December 11
7:30 Family Learning Action Team Meeting
9:00-10:00 Habit Heroes Kdg & 1st

12 pm PTA Meeting
PLC: 3rd, 4th, 5th GT students work on PSP
Wednesday, December 12
8:30 Catherine to Principals Meeting
Thursday, December 13
8:45 3rd Grade Program
1:00-2:00 Habit Heroes: 2nd & 4th

Friday, December 14 - Schedule Change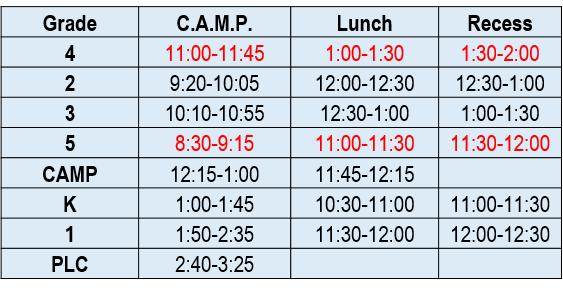 9:15-10:15 Habit Heroes 3rd & 5th
Amazon orders due to Jill (for January Tribe Day)
Blue Santa accepting $$ this morning
12:30 - 2 pm 5th Grade Field Trip to LCHS for Holiday Performance
Monday, December 17
Office/Support Team provides Pay Day Donuts!
PAJAMA DAY for ALL Staff and Students
10:00-11:00 Habit Heroes 4th & 5th

Tuesday, December 18
9:30 1st Grade Party
9:45-10:45 Habit Heroes Kdg & 3rd

11:00 ABLE Party
11:30 3rd Grade Party
1:30 2nd Grade Party

Wednesday, December 19 - Schedule Change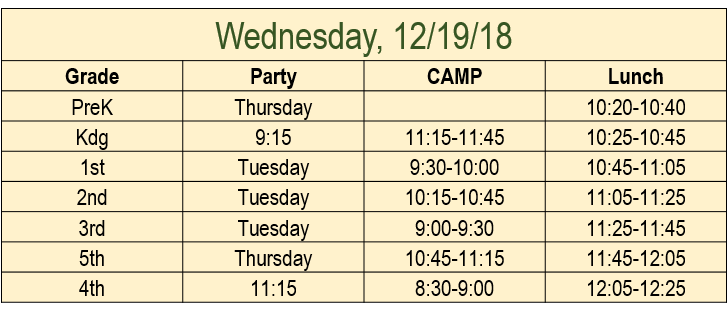 EARLY RELEASE
9:00-10:00 1st & 2nd Habit Heroes
9:15 Kindergarten Party
11:00 Life Skills Party
11:15 4th Grade Party
1:15 Staff Christmas Celebration/Luncheon/Sock Exchange/Activity
Thursday, December 20 - Schedule Change

EARLY RELEASE
9:15 Pre-K Party
9:30 5th Grade Party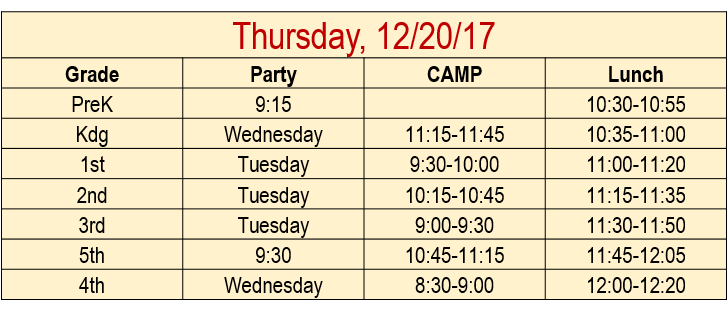 Please have all Christmas decorations down before you leave on Thursday. Winter is great, but Santa has to go. Thank you!


0

/