Shopping Cart
Your Cart is Empty
There was an error with PayPal
Click here to try again
Thank you for your business!
You should be receiving an order confirmation from Paypal shortly.
Exit Shopping Cart
Lone Star

Elementary

Staff Site
GRADES - We are still awaiting complete guidance on this from the state and our district, and we will share that information in one dicument fromt he district level. It is my opinion that we will not give numerical grades on anything, just pass/fail and virtually anything will count... HOWEVER, since we still do not have any final words on this yet, still have parents/student submit assignments through dojo, email, SeeSaw, etc. It will also serve as documentation. The last article I read from TEA suggested that we would need to save examples of each assignment, just one per grade level... still not sure how this will look or what we would do with those examples, but at least we will be prepared. Bottom line: collect at least a few items electronically and use some sort of system, just a simple check/minus willl be fine. No number grades or counting work late.
Special Ed and Dyslexia Referrals - If you had a student anywhere in this process (parent has provided consent), they will get a letter from the Special Ed department that tells them the process will pick up once we are back in the school building with a shorter (30 day) timeline
Smore Users: If you click on "Newsletter Settings" after you click "Publish" you can uncheck the ads that show up around your newsletter, if you are interested.

Facebook Live - Please join the ZOOM link on the Outlook Calendar. It will kick us off after 4 minutes, so this will not be a big part of your day... but for the students it may be the BIGGEST part. You do not have to go to Facebook for this. I will be on there, just because I am hosting the Zoom, but the 4 minutes is YOUR time. Enjoy!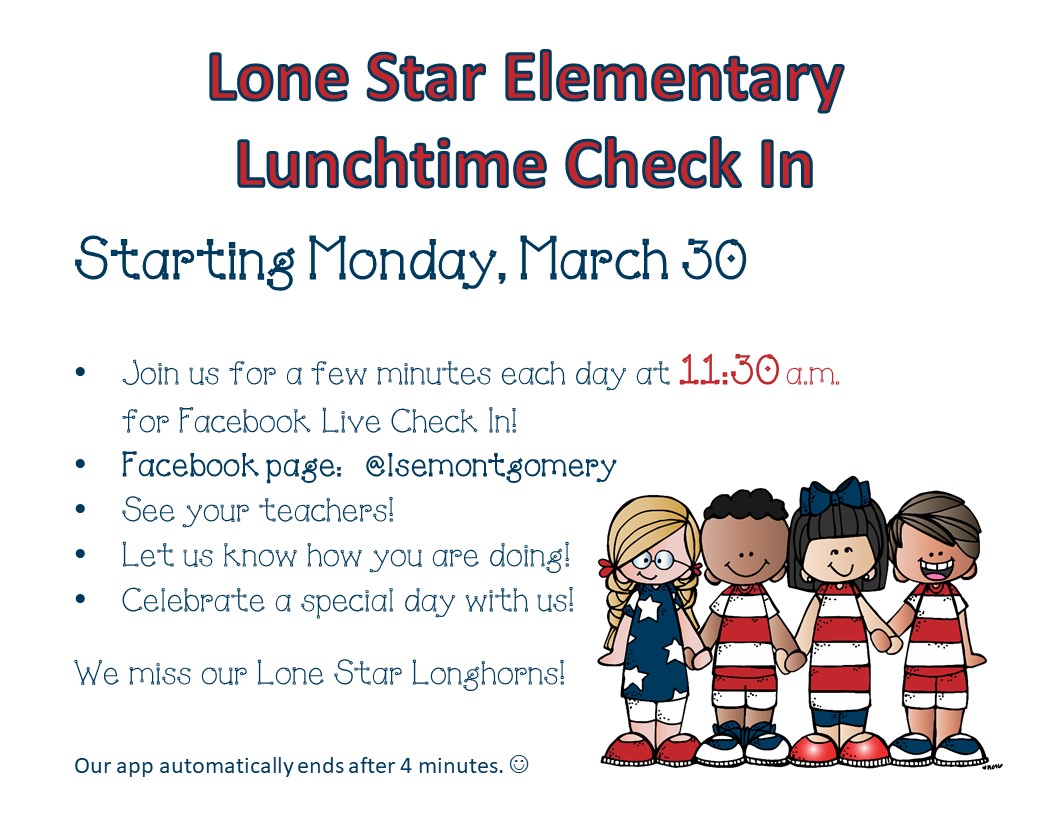 Timeline: We are still set to hear a timeline on April 6. I do not expect us to be back in the building April 13. Please continue to plan and prepare as if it will be at least through the end of April, perhaps longer.
PLEASE continue to take care of yourself and your family. I know this is turning out to logistically be nuts, and most of us feed off the energy we get from being around our co-workers. I love you and miss you, and I need you to be 100% healthy physically and mentally when we return!
Optional Staff Fun Times - please post on LSE Leaders of Leaders Facebook Group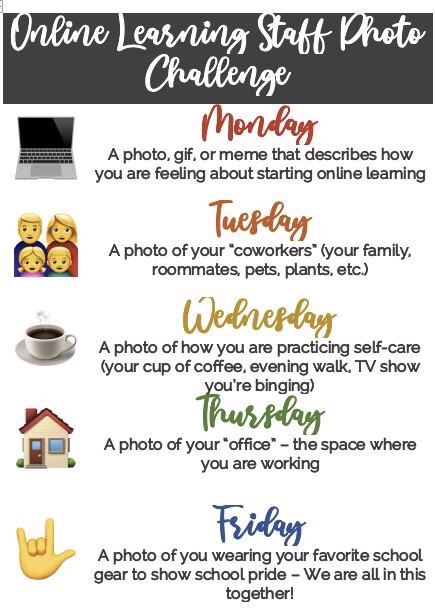 Monday, 3/30

FB Live 11:30 - 5th grade teachers

10:00 3rd Grade Team Check In

11:00 PK Team Check In




Tuesday, 3/31

FB Live 11:30 - 3rd grade teachers

12:00 Elementary Principals Meeting


1:00 Kdg Team Check In

2:00 1st Grade Team Check In





Wednesday, 4/1

FB Live 11:30 - Kindergarten teachers

9:00 Lout - hard copies hand out


11:00 5th Grade Team Check In

12:00 4th Grade Team Check In





Thursday, 4/2

FB Live 11:30 - 2nd grade teachers

9:00 Team Leader Meeting

10:00 SpEd Team Check In

11:00 CAMP Team Check In

11:45 Other Friends Team Check In

1:00 2nd Grade Team Check In




Friday, 4/3

FB Live 11:30 - 1st grade teachers

10:00 Principal/Admin Meeting




Monday, 4/6

FB Live 11:30 - 4th grade teachers

10:00 3rd Grade Team Check In

11:00 PK Team Check In




Tuesday, 4/7

FB Live 11:30 - ABLE, Fowler, Kercheval

12:00 Elementary Principal Meeting


1:00 Kdg Team Check In

2:00 1st Grade Team Check In

 

Wednesday, 4/8

FB Live 11:30 -Other SpEd

11:00 5th Grade Team Check In

12:00 4th Grade Team Check In




Thursday, 4/9

FB Live 11:30 - PreK, Emge, Johnson

10:00 SpEd Team Check In

11:00 CAMP Team Check In

11:45 Other Friends Team Check In

1:00 2nd Grade Team Check In




Friday, 4/10

Staff and Student Holiday

 

0

/